Is Jeffrey Epstein's Zorro Ranch Insulated?
There is a side to Zorro Ranch that is not being told. The fox is surrounded by the well-connected King family on all sides, a solar station to the west, and Hollywood to the north. Child sex trafficking is at the center of the Epstein investigation, but there may be much more going on than meets the eye, and Zorro ranch appears to be insulated.
• Jeffrey Epstein purchased the New Mexico ranch from Gov. Bruce King in 1993 – the year Bill Clinton became President – Jim Baca was brought on by Clinton and Bill Richardson worked with Clinton on the NAFTA passage – both of which received thousands in campaign contributions from Epstein.
• Over 20,000 acres of Hollywood landscape sits just north of Epstein's land, purchased by fashion designer Tom Ford in 2001 – another name in Epstein's black book.
• In addition to Epstein giving over $50,000 in campaign funds to former AG Gary King, the King family's land surrounds Zorro Ranch on all sides, and their political and defense connections go all the way up to ballistic missiles .
Jeffrey Epstein was taken into custody on July 6, 2019 on charges of sex trafficking minors and conspiracy to engage in sex trafficking of minors.
The indictment states he conspired with others to carry out these acts.
In creating and maintaining this network of minor victims in multiple states to sexually abuse and exploit, Jeffrey Epstein, the defendant, worked and conspired with others, including employees and associates who facilitated his conduct by, among other things, contacting victims and scheduling their sexual encounters with Epstein at the New York Residence and at the Palm Beach Residence.
Whereas they do not specify his New Mexico ranch in the indictment, Zorro Ranch is being investigated by New Mexico authorities who are assisting federal authorities in New York. They are currently interviewing people who allege they were abused by Epstein at the ranch. In a 2015 court filing in Florida, Epstein was accused of sexually abusing a 15-year-old girl in New Mexico and other locations.
In 2008 Jeffrey Epstein pleaded guilty to soliciting a minor for prostitution in a plea deal that only required him to spend 13 months in jail, of which he served most of in his Palm Beach office on "work release." There were dozens of victims, a 50-page indictment on sex trafficking charges that was shelved, and a secret plea deal that concealed the full extent of his crimes and granted immunity to any potential co-conspirators. It stunk, and is now in the spotlight again. A judge recently ruled for the unsealing of up to 2,000 pages of judicial documents to show evidence of whether Epstein and his partner Ghislaine Maxwell were recruiting underage girls in an international sex trafficking operation.
Epstein's connections are vast, ranging from the Hollywood elite to billionaires, politicians, and presidents. Before getting into the political "resumes" which surround this ranch, take a look at the overall landscape to get a visual sense of the lay of the land.
The Lay of The Land Surrounding Zorro Ranch
Epstein purchased Zorro Ranch, consisting of nearly 8,000 acres, in 1993 from former Gov. Bruce King. It is assumed he purchased it under his real name at that time, but I was unable to trace the records from 1993. However, the Santa Fe County Assessor's records do reflect Jeffrey Epstein under Zorro Ranch Trust in 2011, which later switched to Cypress Inc. in 2013. Though his name is not indicated on the Cypress Inc. records, the New Mexico State Land office provided the state AG's office with documents indicating that Cypress Inc. is owned by Jeffrey Epstein. In fact, they are currently looking into 1,244 acres of state trust land that Cypress Inc. has leased since 1997.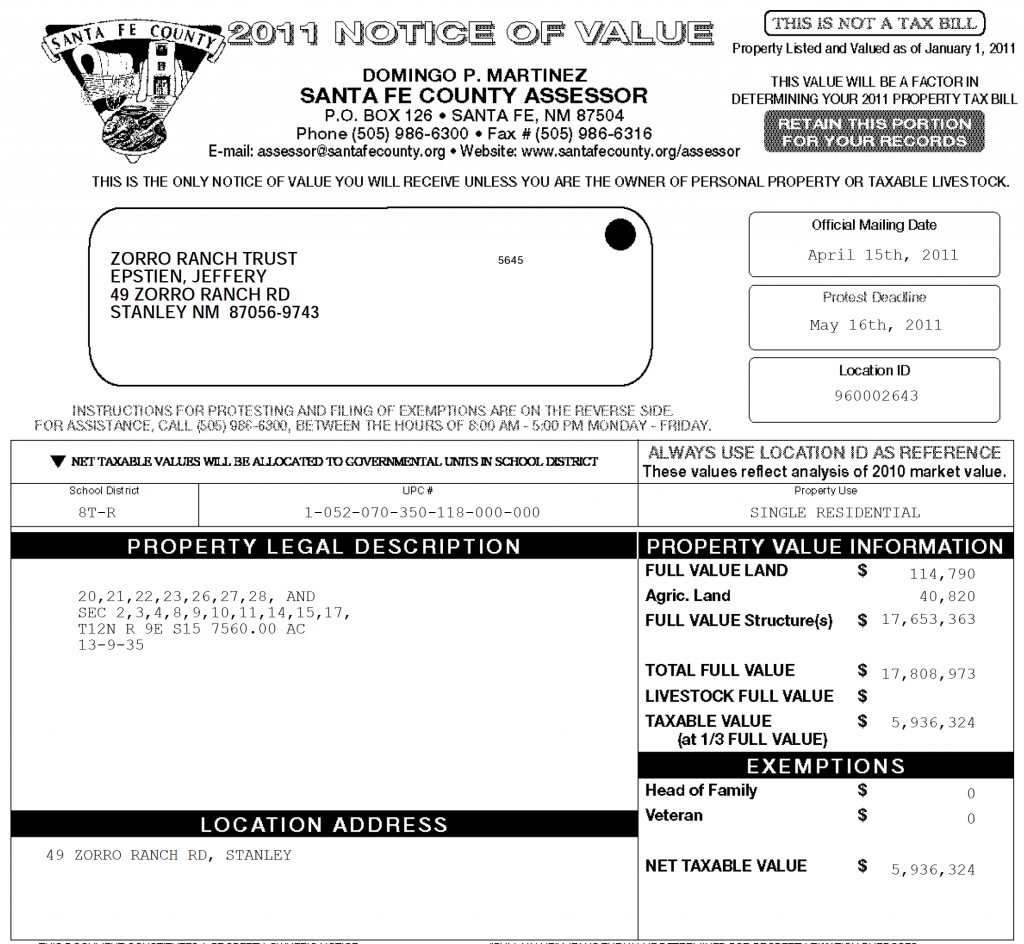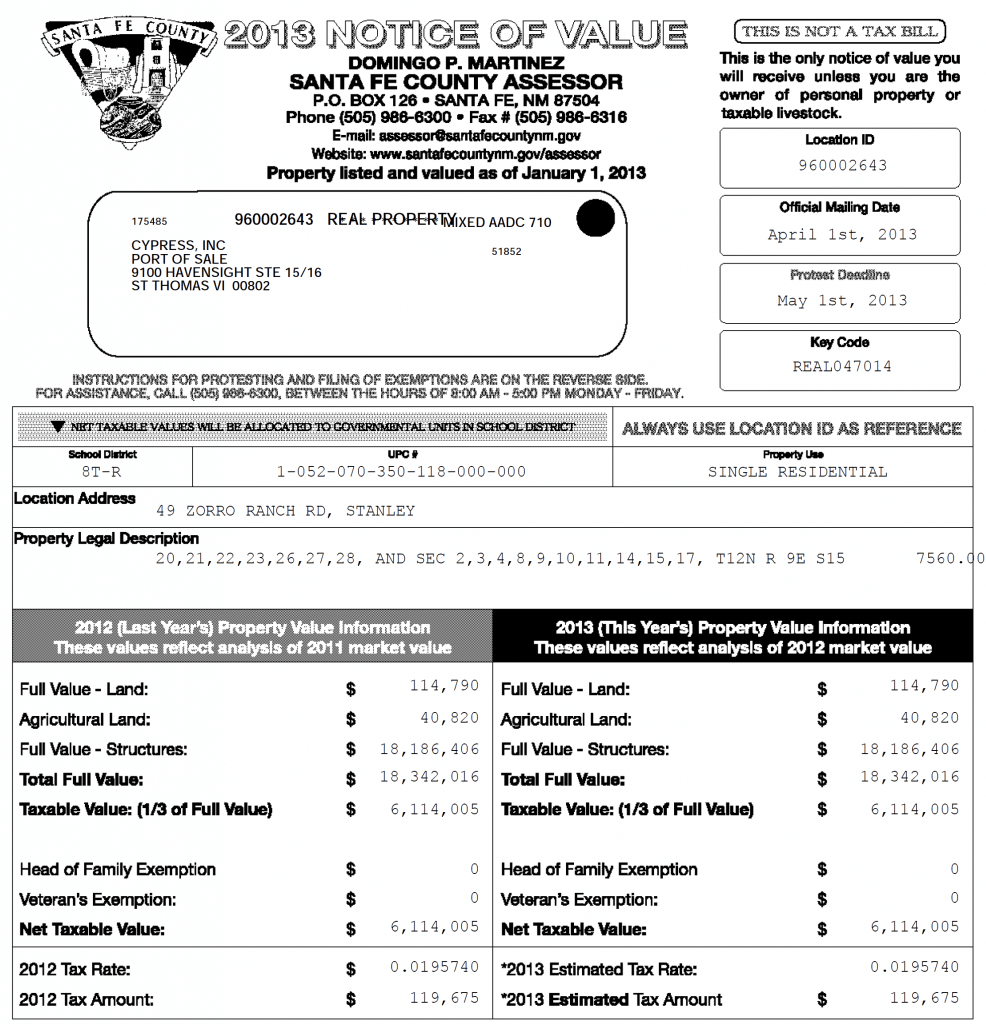 According to county records, he began constructing a stable, detached garages, and homes in 1994, and began building his 33,339 square foot mansion in 1999. What an interesting number to land on for square feet. Of course, by the time the multiple porches and patios were added, the overall square footage of this monstrosity came to 57,420.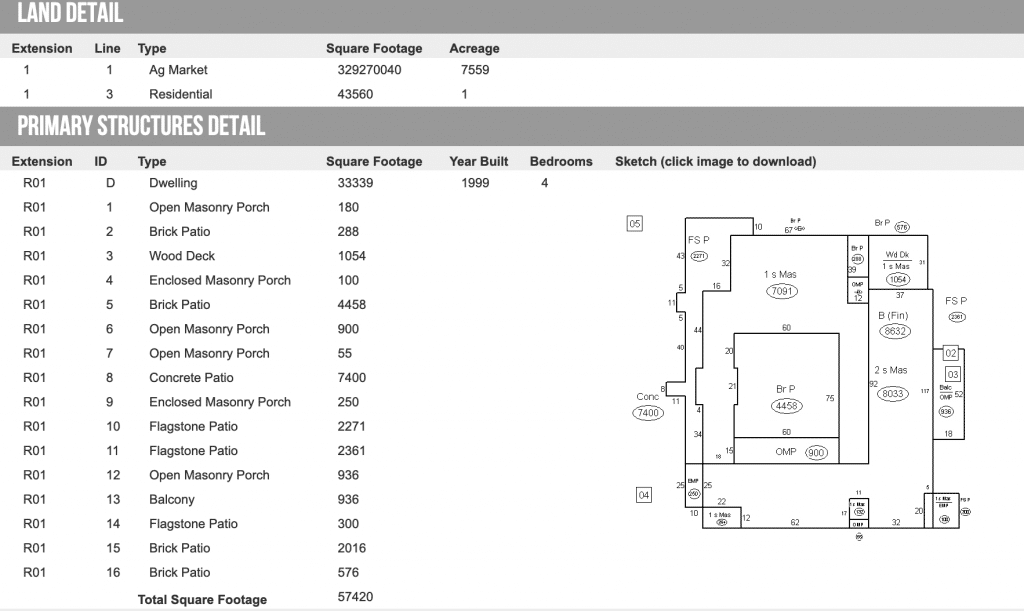 It has been reported that the Kings still own land surrounding Epstein's property, but it wasn't stated as to just how much land, which Kings, and where those parcels are located. Nor do they seem to be reporting on the extensive land mass to the north, used by Hollywood for filming over 30 movies, and purchased by Tom Ford in 2001, who just so happens to be included in Epstein's little black book.
Below is a map detailing all of the parcels with their respective owners. To be clear, the Kings own land under many names. Also note that the State of New Mexico owns land adjacent in addition to a chunk of land right smack in the middle of Epstein's parcel. There are two smaller parcels also owned by Cypress/Epstein, indicated on the map that both fall within his overall large parcel. And, Alexander LLC is in fact a small representation of the bigger land just to the north that is also under the name Alexander LLC, which makes up the large parcel used for Hollywood movies.
Continue reading full story here: https://t.co/MNTPQDPmjv?amp=1
~~~~~~
http://www.freeport1953.com/wt1p/is-jeffrey-epsteins-zorro-ranch-insulated/  = this posting