These lawyers, bankers, academics, journalists, bureaucrats and self-styled elitists sponge off the actual wealth-creation of hard working Americans via SES, OPIC, Lockheed Martin, Crown Agents, Serco, USAID in pursuit of the seven deadly sins
Since they don't do real work, President Trump can simply turn off their lights
Then, he can use the trillions of dollars recovered to empower real wealth creators
Fig. 1
—
This is a glorious depiction of the evil labyrinth we have discovered.
The Icon of the Ladder of Divine Ascent is connected with the well-known spiritual classic book entitled The Ladder of Divine Ascent by Saint John Climacus, of the seventh century. It inspired by Jacob's dream where God—the Great I Am—promised to keep him in all places and that he should not be afraid.
Genesis 28:12-15
.
Icon Writer: Unknown.
(APR. 20, 2018)—AFI began this investigation in 2012 to try and understand why the U.S. Supreme Court failed to protect Leader Technologies' revolutionary invention of social networking—even after Leader proved that Facebook infringed their patent on 11 of 11 claims.
What we have discovered is a labyrinth of organized sin and corruption that permeates practically every institution on our planet. Besides watching the Leader v. Facebook court ignore well-settled precedent so that they could protect Facebook, the judges themselves held volumes of Facebook financial interests.
Judges are expressly prohibited by their sworn Code of Conductfrom engaging in such immoral and illegal activity. They are prohibited from holding "even one share" by a spouse in a litigant. The games that our judges, politicians and bureaucrats are currently playing by hiding their financial holdings in large corporate litigants behind conspiring mutual funds is just obscene. This corrupt practice began in earnest after a Judicial Conference in March 2001—six months before 9/11 & the theft of Leader's social networking invention—without public hearing or debate. We call it The Great Mutual Fund Scam.
Here are the corrupt judges and clerk in Leader v. Facebook who each failed to disqualify himself/herself due to his/her substantialholdings in Facebook financial interests. Each person gained great wealth from the Facebook initial public offering in 2012, this is without even knowing the extent of their offshore accounts. They also failed to disclose their intimate relationships with Facebook's appeal attorney Thomas G. Hungar, Gibson Dunn LLP:
Our initial scratching at the surface of this injustice to Leader Technologies has now given way to bulldozers and dump trucks. We have teamed up with corruption fighters from around the globe. We have worked to meticulously document these crimes with indictable evidence that some are calling the Crimeline. It is intended as a research tool for lawyers, judges, politicians and the media to help speed up the coming prosecutions. Honest citizens of the world cannot allow these corruptocrats to succeed. [Note: Over a year ago we sent a copy of this Crimeline to then Senator Jeff Sessions before he became Attorney General.]
Leader Technologies' shareholders are currently asking President Trump to pay them for the 18-year theft of their social networking invention by the federal government and our rogue Silicon Valley technology community. They have filed "Miller Act Notices" at the White House and have proposed a remarkable non-tax $500+ billion new revenue source and a Win-Win fix for the horrific problems that this theft has caused. See Leader Technologies files trillion dollar bond lien on the U.S.
Bookmark: #constitution-vs-crownBIG PICTURE: THE CORRUPTOCRATS STOLE LEADER'S INVENTION TO SPEED UP THEIR GLOBALIST TAKEOVER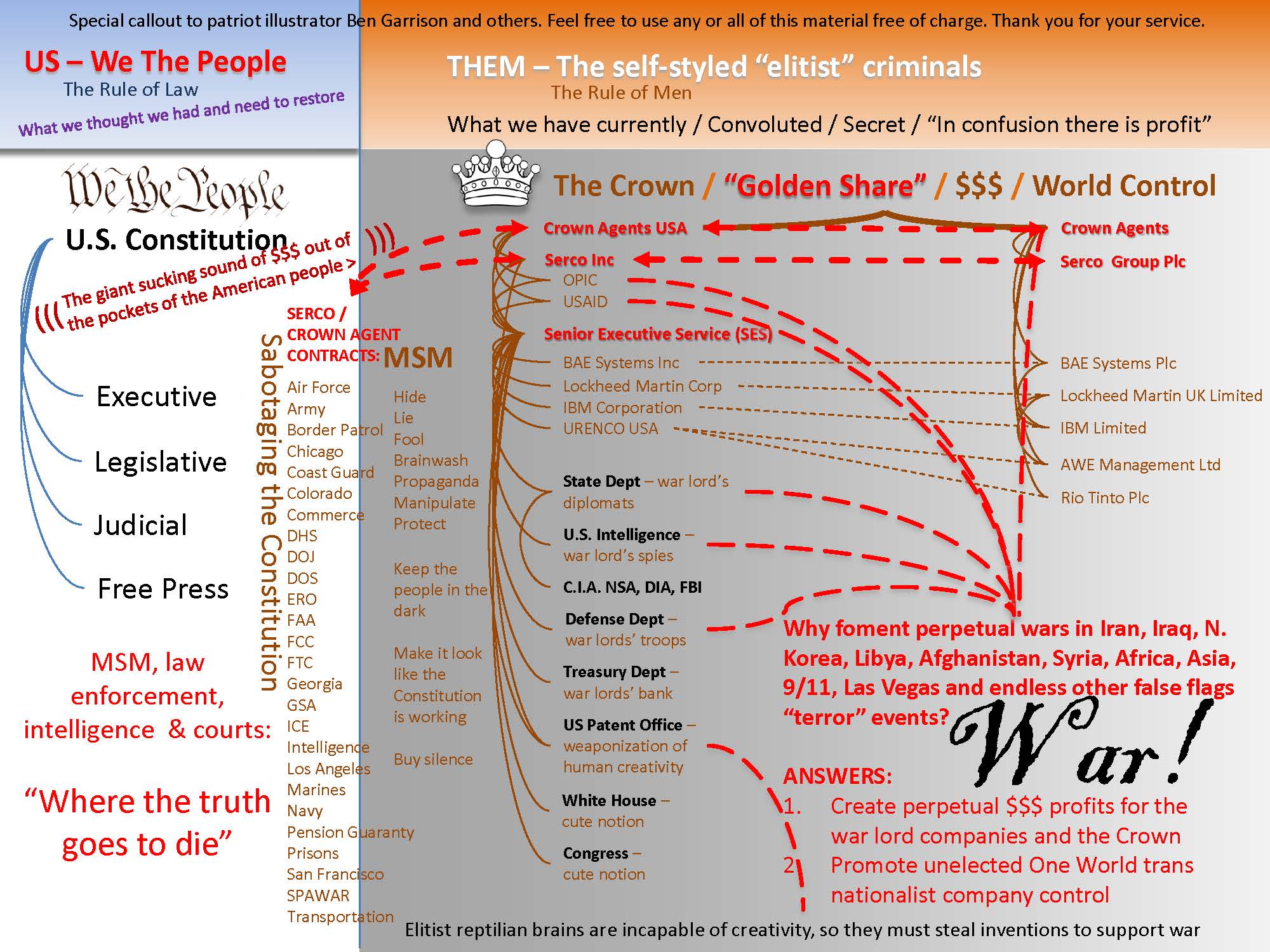 Fig. 3
—
Constitution vs. Crown:
This flow chart shows who, what and why perpetual
War!
is the goal and need of the Deep State shadow government.
Click here
for a PDF of this illustration.
What is the connection with Leader Technologies' social networking invention? These corruptocrats stole it because they knew it would speed up their takeover of the American Republic. They appear to have been right about that. "Social networking" appeared almost overnight like a Phoenix via the IBM Eclipse Foundation in early 2004 once Leader Technologies had finished debugging their source code. See First annual IBM EclipseCon 2004, Feb. 2-5, 2004 (Facebook started Feb. 4, 2004).
For new readers unfamiliar with the Leader Technologies story, we have added a footnote overview of the Leader "innovation magic" story below so that we can get to the main theme of this post.
Once we proved the immediate evidence of the Leader v. Facebookcorruption, we widened our lens aperture to look at who and whatwas behind these peoples' choices to be so corrupt.
In summary, the following organizations came into focus:
Senior Executive Service (SES),
Overseas Private Investment Corporation (OPIC),
Serco,
USAID,
Crown Agents, and
Lockheed Martin.
We knew a little about Lockheed and USAID, but nothing about SES, OPIC, Serco or the Crown Agents. Considering that these organizations move hundreds of billions of dollars of American tax money around the planet, why are they not in our civic consciousness? The MSM has been silent and has clearly failed to hold them accountable, as is their job. Now we know that this gaggle of criminals are the successors of Nazi Brown Shirts for the Deep State shadow government. They could cease tomorrow and the world would only improve, wars would stop, and a new era of human creativity will be unleashed.
SES & OPIC CONSTITUTES AN UNCONSTITUTIONAL SECRET GOVERNMENT OF WAR PROFITEERS, BUT IT'S WORSE. OTHER GOVERNMENTS  HELP DRIVE THIS SES / OPIC BUS TO PERDITION.